MsgExport/SMS To File
Update Latest version (supports S60 3rd edition until the latest Symbian Belle) is available in Ovi Store, it has been renamed to SMS To File (1 USD).
<nokia:store product_id="271108" size="small" lang="en"></nokia:store>
MsgExport is a free program for Symbian S60 3rd/5th edition to Export your SMS data to TEXT/CSV/HTML. It doesn't offser message selection, it will export all messages (including in the user folders). Application is compatible with s60 5th edition (just hit continue when you get the warnings about app is not compatible when installing).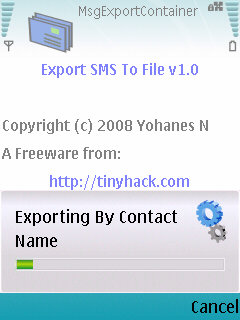 Homepage: https://tinyhack.com/freewarelist/s603rd/2008/02/04/msgexport/
My other Symbian/J2ME Apps
Copyright © 2009-2018 Yohanes Nugroho